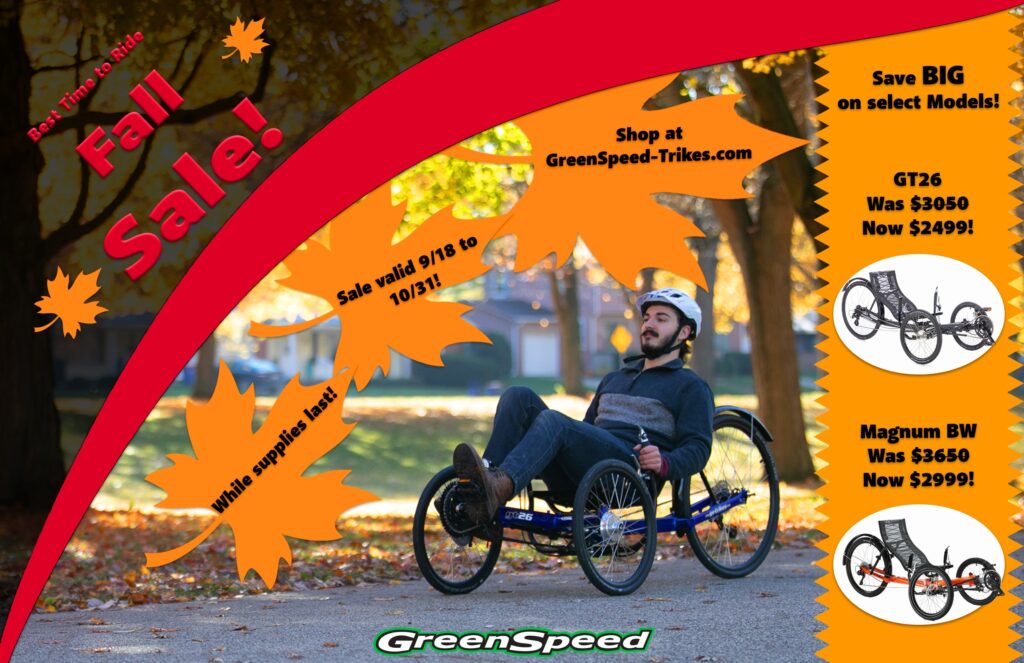 Fall Sale on GreenSpeed Recumbent Trikes – Ends OCT 31
September 27, 2023
Have you been wishing for a rare opportunity to purchase one of our models on sale? While it does not happen often, the time has come! With limited-time reduced pricing for select GreenSpeed models, the sale begins at the best time of the year to ride! With top-end components and designs made to blow your hair back on the trails, riders like you can save big on the recumbent trike they've been looking for.
The GreenSpeed GT26 and Magnum BW are included in this limited-time bargain. The Laidback Bike Report gave praise to the Magnum BW with its "rigid frame that provides good handling when going fast" and offering a "really good feel at high speeds" for riders. The GT26, is recommended by Bent Revolution as a "great trike for people who are looking for something fast and maneuverable." With a reputation for quality and superior design, these trikes maximize your human potential. Recumbent trike performance has never been better.  
These elusive speed machines will go just as fast as this deal! Savings eligible from September 18th, 2023, to October 31st, 2023, while supplies last. Models are eligible for the original owner warranty. Visit your local dealers or purchase directly from the GreenSpeed website to secure your new companion for your next adventure.